Ici

ecology & comfort go hand & hand!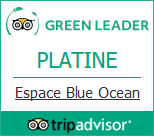 Get away, escape, a change of scene & habits, if only for a week !
Destination Blue Océan, a model of responsible tourism !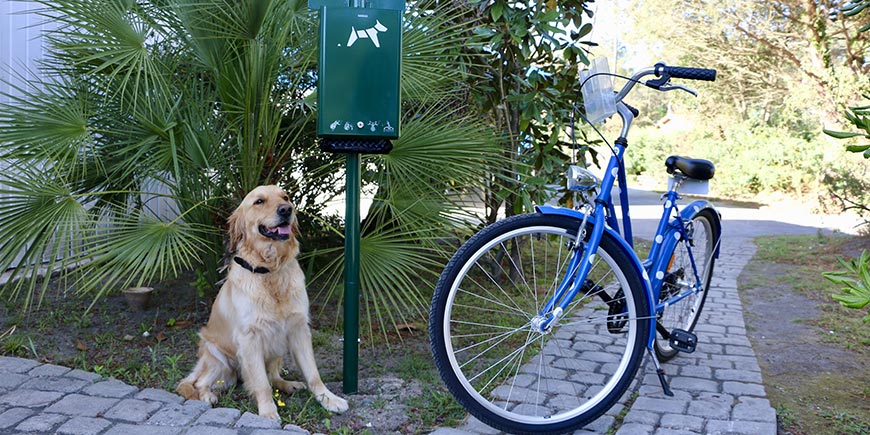 Wood-built accommodation merges into the forest, solar panels, a chlorine-free pool, recycling, locally-produced fruit and vegetables, …
Soft modes of transport, on foot,bikes, by shuttle bus, in golf cars: no need anymore for a car !</p
The only watchword & real luxury are space, nature & calm !
Blue Océan is a boutique camping resort to enjoy winter, spring, summer or fall, with its huge fine sandy beach, woodland walks, riding the waves, a course of aerial silks, a gallop over the dunes, or a naturopathy course.
Initiatives
Do your children know the smell of thyme, rosemary or lavander ? … well, they'll discover their senses in our new aromatic garden !…
Do you appreciate pine honey ? 20 hives are being installed to produce Blue Océan honey and to teach children about bees.
We welcome Pony and his donkey friends.
Promotional offer " Vacations without cars " to reduce the carbon imprint!
Our Work
European Ecolabel
What is it?
Created in 1992, the European Ecolabel is the only official European ecological certification used by all the countries of the European Union. In France, it is awarded by AFNOR Certification, an independent certifying body.
What is it for?
Ecolabel provides recognition for goods and services that respect the environment. For product certification, both the product and its packaging are taken into consideration.
This certification addresses both the need for trustworthy information regarding the eco-friendliness of goods and services, as well as providing recognition for businesses wanting to demonstrate their ecological commitment, through certified goods and services.
Saving water
The campsite has installed a system in order to reduce its water consumption. Firstly, the taps and shower heads in the accommodation and washing facilities have been equipped with flow restrictors. This system has reduced our water flow to less than 9 litres/min.
Our toilets are also fitted with water saving devices. The latest mobile homes and chalets are equipped with water-saving flushing devices.
Moreover, in the washing facilities, we have installed push-button urinals, which only allows the urinal to be flushed once, thus saving water.
The campsite is equipped with 3 rainwater collectors:
We have 6 aerial collectors on the roofs of the main buildings.
2 underground cisterns contain 5000l of water each.
This rainwater is used to water the plants in the park. The campsite does not have an automatic watering system, but has installed a water-saving manual irrigation system i.e. watering in the morning and evening in order to optimise watering times and the water consumption by the plants and green spaces.
Saving energy
Blue Ocean's environmental policy also includes reducing electricity consumption.
To do this, we have first installed energy-saving lightbulbs in the camping resort accommodation, i.e. 98% of lights are used for less than 5 hours per day. accommodation, i.e. 98% of lights that are used for less than 5 hours per day.
Moreover, all lights switched on for more than 5 hours per day (such as in the restaurant/bar and reception) have fluorescent energy-efficient lightbulbs. Studies have shown that to achieve the same brightness, a fluorescent energy-efficient lightbulb uses 20W, whereas a traditional incandescent lightbulb uses 60W.
The camping resort has opted for new domestic appliances with a A+ or A++ rating (fridge, freezer, dishwasher, washing machine, tumble dryer, etc).
The camping resort pool is heated using solar panels and a heat pump.
100% of the electricity used by Blue Ocean is generated from renewable sources.
Use of space
In accordance with its environmental policy, Blue Ocean has made every effort to use the space well whilst respecting the environment.
Despite the addition of around 200 rental homes, no additional concrete roads have been built since the takeover of the camping resort in 1998
In 2009, the reception building was rebuilt with a green roof and insulation made from cellulose wadding.
The principle of a green roof is simple: it is comprised of various layers of vegetable matter, providing insulation andwaterproofing.
By improving the insulation, the green roof has cut the building's energy use. The roof is very well insulated, keeping the building warm in the winter and cool in the summer. This reduces our energy consumption by around 20%.
By the way, the camping resort reception is not heated in the winter or air-conditioned in the summer. The temperature rarely dips below 17°C or rises beyond 25°C.
The green roof is part of an environmental policy of eco-construction. This policy is in accordance with 'High Environmental Quality' regulations.
Recycling
The camping resort has recycling facilities. We have different bins for:
Glass
Plastic
Cardboard and Tetra-packs
Batteries
Metal
Paper
The recycling point is managed by SITCOM South-Landes
This information is provided to customers:
During a welcome speech on Sunday evening
In the welcome pack
Via posters in the accommodation
In the communal washing facilities
On various panels throughout the camping resort (12 in total)
All dangerous waste products are removed from the camping resort once a week and taken to the waste disposal unit in Labenne where they are correctly disposed of. EASYTEX disposes of the mattress protectors. This organisation collects the products, sorts them and takes them to a recycling unit.
At the welcome drinks, the cups are made from PLA (polylactic acid), a material derived from cornstarch. PLA is theoretically completely biodegradable.
Good practices
Journeys within the campsite (cleaning, maintenance, assisting clients) are made only using electric cars and bicycles.
During the season, motorised vehicles are only permitted for 2 hour-long slots per day:
8.30am – 10.30am in the morning
6.00pm – 9.00pm in the evening
Outside these times, a gateway behind the barriers ensures that the campsite is completely closed.
Moreover, clients with a lot of luggage can ask to be assisted by a member of staff in an electric car.
In July and August, a free shuttle bus will take you to the centre of town or the beach to reduce car journeys.
Other good practices:
The camping resort facilities (reception, bar/restaurant, supermarket, maintenance, cleaning) use eco-friendly products.
Arbre Vert, Action Pin and Elidis are eco-certified brands that supply us with 'green' cleaning products for laundry, site cleaning andfood hygiene.
Our office paper has European Ecolabelcertification. This paper is only used for administrative purposes (letters, information) and reprographics (inventories, practical guides).
The camping resort stocks Organic Agriculture–certified organic products and European Ecolabel certified products in the pharmacy and boutique.
In terms of activities, Ekolondoï comes to the camping resort 5 days a week during the season in order to provide fun environmental educational workshops for children
Our chef makes the dishes on the restaurant menu using local produce:
'Sud-Ouest' PGI (Protected Geographical Indication) Duck breast fillet from Labeyrie.
The chicken comes from local farms
The vegetables (tomatoes, lettuce, courgettes, peppers, beans) are locally-sourced
Artisan bread is made by Panehestia in Ondres
The 'axoa de veau' (typical Basque dish): Accoceberry in Espelette
The bread and pastries sold in the supermarket come from the village bakery (made in Ondres and Tarnos).
One of the loaves sold at the bakery has Organic Agriculture certification.