Rent your pine forest chalet in our 4* campsite at Ondres
In our ideally-arranged chalets in the Landes forest, you can spend your holidays in the middle of the forest under the Landes pines. In the heart of a 1.5 hectare space, not fenced off, you'll find 60 chalets in the heart of nature. Totally renovated in 2019 (new furniture, decoration & layout), our family chalets are ideal for calm holidays. Your children will be able to play in the large spaces around your wooden accommodation. Finally, you will enjoy the cosy style of our wooden Landes chalets. They're both modern and traditional. Without a doubt, you'll have excellent green holidays in our accommodation!
Our wooden chalets in the Landes near Bayonne
We offer you 60 ideally-arranged chalets under the Landes forest canopy to preserve your intimacy and limit contact. Each accommodation has a parking space for your vehicle. You can enjoy your holidays in the Landes sun. Our large array of chalets and wooden cottages under the pine forest canopy will allow you to find the ideal accommodation for your seaside holidays.
Chalet for 4/6 people (2 pine cones)
If you are looking for a family chalet in the forest, the chalet for 4/6 people will meet your needs, carefully arranged as it is for families. This 2-bedroom chalet also offers you a beautiful shady terrace. Located in an exceptional pine forest, you will be able to let your children play outside in total safety.
Chalet renovated in 2019 (new furniture and lighting)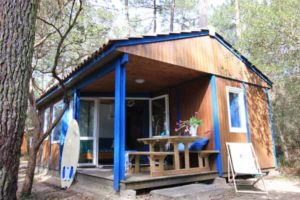 Chalet
4/6 p. – 35 m² – 2 bedrooms
Chalet for 4/7 people (3 pine cones)
A fully-equipped chalet in the pine canopy: such could be the description of our accommodation for 4/7 people. A beautiful parental bedroom, a children's bedroom with three single beds (one bunk bed), a fully-equipped kitchen, a shower room & separate WC and TV. Totally renovated in 2019, with quality bed linen, modern lighting and careful design.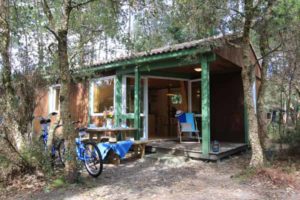 Chalet
4/7 p. – 35 m² – 2 bedrooms
Chalet for 5/7 people (3 pine cones)
Our chalet for 5/7 people will be the key to the success of your family holidays, with a beautiful interior space, a parental bedroom with a double bed, a children's bedroom with 2 beds and a beautiful terrace. The kitchen is fully equipped. This chalet with television will also be the chance to pass restful seaside holidays under an extraordinary pine canopy.
Notre chalet 5/7 personnes sera la clé de la réussite de vos vacances avec des grandes familles. Il vous offrira un bel espace intérieur, une chambre parentale avec lit double, une chambre enfant avec 2 lits, une jolie terrasse. La cuisine est intégralement aménagée. Ce chalet avec télévision sera aussi l'occasion de passer des vacances reposantes en bord de mer sous une pinède extraordinaire.
Chalet
5/7 p. – 40 m² – 2 bedrooms
Villa Chalet for 4/6 people (4 pine cones)
When conceiving our Villa Chalet by the sea near Biarritz, we made the beach accessible by a forest path nearby. This air-conditioned chalet, located on the forest's edge, with all creature comforts: a parental suite, a children's suite, TV, air-conditioning. Some have a breathtaking view of the forest and all are located in a pedestrian-only zone.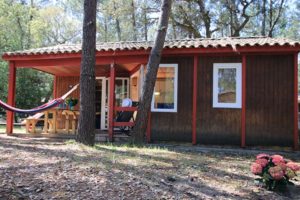 Chalet Villa
4/6 p. – 44 m² – 2 bedrooms
What's special about this wooden chalet near Biarritz?
Very comfortable, offering holidaymakers all the services and equipment of home, a wooden chalet under the pine canopy will let you enjoy the little comforts: a beautiful seat, comfortable beds, complete home appliances: anelectric hob, exhaust hood, dishwasher (except for the chalet for 4 people), a microwave oven and also a beautiful kitchen space to enjoy summer dishes.
Why book your wooden accommodation in the Espace Blue Océan campsite?
If you're a nature-lover, the green accommodation of Espace Blue Ocean and in particular our campsite chalets are sure to satisfy. We have achieved a high level of environmental excellence and been rewarded with the award of European Ecolabel Campsite! This gives you a unique combination of spending your relaxing holidays with your family while respecting the environment and letting your children enjoy themselves!
What is the average size of the forest chalets?
We offer you 2-bedroom chalets in the Landes chalet for 4 people, the chalet for 4/6 people, chalet for 4/7 people and chalet for 7 people, with an area of between 30 and 45m², all equipped with a covered terrace, a beautiful lounge and a large bay window looking out. Our Chalet Premium « Villa » of 45m² gives you 2 suites independent shower rooms and direct access to the outside, ideal for holidays with adolescents in the Landes.
What equipment is included in your chalet near Hossegor?
All accommodation is in 2-bedroom chalets, one with two shower rooms (2 in the Villa chalet), with complete household appliances, independent WC (except for our chalet for 4 people: WC in the shower room), a covered terrace, modern furniture with sofabed, inside table and design chairs, recent wood garden furniture (2018/2019), modern LED lighting. Beyond the equipment, we offer you holidays in the open air and large open spaces, as our plots are not fenced off, leaving you with a large area of open forest.
How can I book my wood chalet near Bayonne ?
You can book your chalet in the forest by contacting the Campsite team near Capbreton on +33(0) 5 59 45 31 40. Our receptionists will help you to find the best Chalet VACAF for your seaside vacations.
Online booking is also possible: click above on the campsite chalet descriptions of your preference and book directly with your bank card.
Which services will I have with my chalet in Ondres ?
Thanks to your booking in a pine forest chalet in a 4* campsite, you will enjoy access to our exclsuive swimming pool (solar heating, numerous deck chairs and sunbeds, latest salt filer technology). You will also be able to enjoy children's and adult entertainment in our campsite, including our very own circus school where you can organize your training, relax with a yoga course or even discover for yourself the endless cycle paths on your family bike trips.
Grâce à votre réservation de chalet sous les pins en camping 4*, vous bénéficierez d'un accès à notre piscine exclusive au camping (chauffage solaire, nombreux transats et chiliennes, dernières technologies de filtrage au sel). Vous pourrez également profiter de notre votre camping avec animations pour les enfants et les adultes. Vous profiterez de notre école de cirque implantée dans l'établissement où vous pourrez organiser un stage, vous vous détendez avec des cours de yoga ou encore découvrirez les pistes cyclables à perte de vue pour des votre balades en vélo en famille.