Rent your premium accommodation in our 4* campsite at Ondres
Our premium accommodation is located in an exclusive area. In a 4-star establishment, at the end of a no-through-road, there are 80 places to stay spread over 4 hectares. Recent cottages (maximum of 2 years old) and new mobile-homes meet nature-lovers' needs. L'Airial du Seignanx is, like its neighbour The CEuropean Ecolabel Blue Océan Campsite, certified environmentally-friendly. You will enjoy a private pool with a reflecting pool. In season, a shuttle bus will take you to a huge sandy beach for your surfing course in a few minutes.
Our premium accommodation in the Landes region near Bayonne
Below you will find a very large range of high-end cottages, luxury mobile-homes for 4 to 12 people, 2-bedroom accommodation, 3-bedroom accommodation camping or cottages for larger groups.
TAOS premium cottage
he TAOS cottage is a must for open-air holidays. With its big parental suite, 2 children's bedrooms, a very big lounge and a 20m² terrace, you will enjoy all the space you need for total comfort holidays! Some of our TAOS are air-conditioned mobile homes.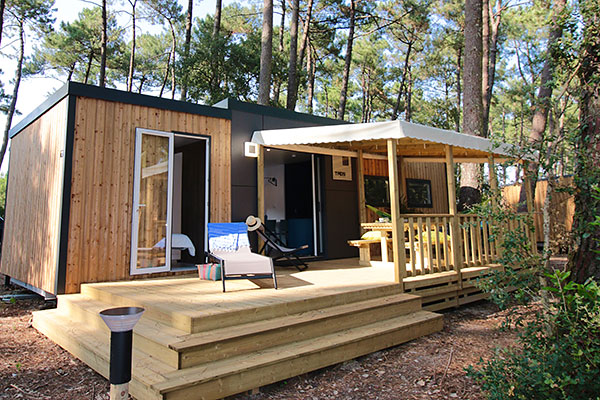 Premium Taos
6 p. – 40 m² – 3 bedrooms
Key West premium cottage
The Key West mobile home is 3-bedroom accommodation in which you will find all the comfort of your home: a fully-equipped kitchen, a parental suite with a large shower, a large covered terrace and a beautiful living room.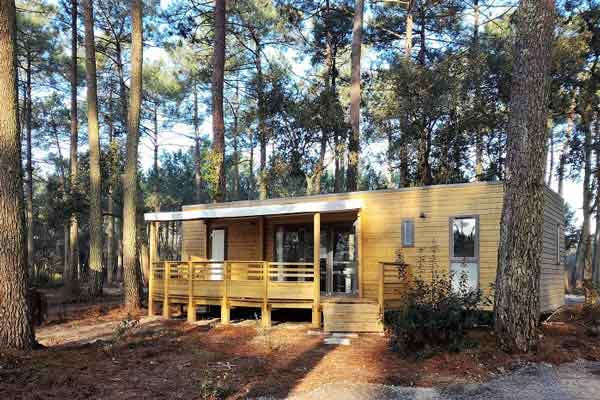 Premium Key West
6 p. – 42 m² – 3 bedrooms
Cocoon premium cottage
Installed in 2019, the new Cocoon mobile home is 40m² in size, with a beautiful living room, a parental suite and a covered terrace. Come and enjoy a place to stay in the shade of the Landes forest. You will be able to rest and enjoy a relaxing holiday!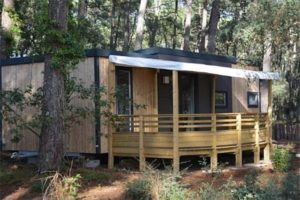 Premium Cocoon
4/6 p. – 40 m² – 2 bedrooms
Premium Cosy cottage
The Cosy Cottage is a good value-for-money mobile home, with 33m² of space to enjoy in 2-bedroom camping accommodation. You will also enjoy three beautiful wardrobes with lots of room for your baggage.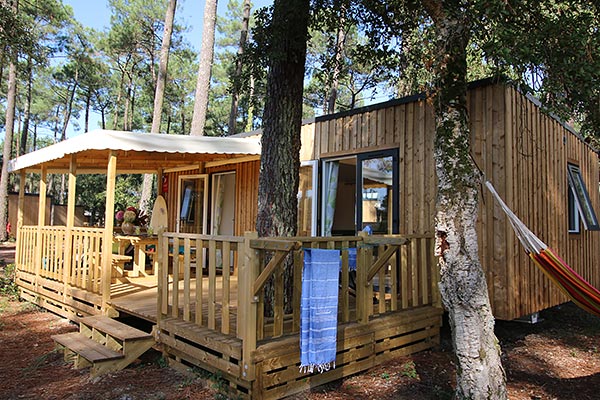 Premium Cosy
4/6 p. – 34 m² – 2 bedrooms
Super Cosy premium cottage
Our Super Cosy family cottage is exceptional. It can sleep 8 to 12 people with 4 bedrooms, 2 sofa-beds & 2 shower rooms. In fact, it is 2 COSY cottages linked by almost 80m² of terrace. Whether you're looking for holiday accommodation for families with young children or adolescents, you're sure to be happy in this capacious mobile home!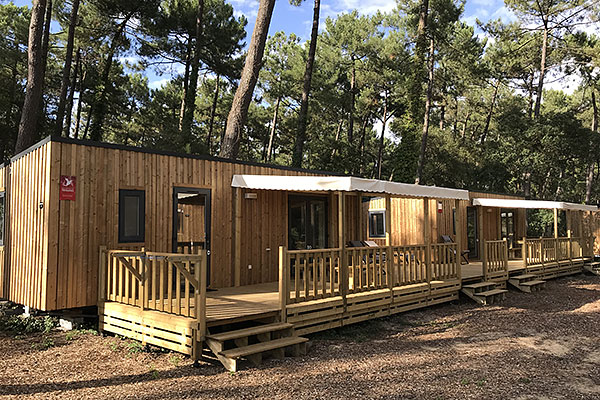 Premium Super Cosy
8/12 p. – 68 m² – 4 bedrooms
What are the specs of this premium accommodation in our campsite close to Biarritz?
The premium mobile homes and premium cottages near Hossegor, offer you numerous advantages:
Holidays in the forest and large spaces (plots of 200 to 300m² approx)
Hotel service allowing you to have holidays without a car: sheets (beds made on arrival) and towels at your disposal during your camping holidays by plane or by train.
Wifi connection for 4 devices for all direct rentals
Cottages with TV
Hammocks and deck chairs
And many other advantages. Find out for yourself in our premium accommodation.
Why book your prestige accommodation in Espace Blue Océan campsite?
Our premium accommodation 12 minutes from Capbreton will allow you to spend your holidays in the open air, as if you were in a hotel! Find out for yourself the comfort of our cottages, des grands lits en 160, hotel-quality bed linen & large wooden terraces.
As well as high-qaulity accommodation, you will be able to take advantage of the full suite of services of the campsite (children's entertainment, adult entertainment, bar, tradional restaurant) but also the chance to take a yoga course on holiday!
What's the average size of the prestige mobile home?
Our prestige camping cottages have an average size of 40m². We offer high-end holidays in cottages for 4 people with 2 bedrooms, high-end mobile homes for 6 people with 2 bedrooms and luxury cottages for 6 people with 3 bedrooms or accommodation for large families (up to 12 people) under the forest canopy.
What equipment are included in the premium accommodation?
All the equipment for you to travel light are included in the premium accommodation for your camping stay to be like that of a hotel in Bayonne:
Sheets and towels
WIFI
Télévision (TNT)
Breakfast option or all-inclusive camping (half-board only, not including drinks)
How can I book my premium cottage near Bayonne ?
Your high-end accommodation can be booked by contacting the campsite reception near Biarritz on +33(0) 5 59 45 31 40. Our teams will advise you on the best cottage for your family.
You can also book your bungalow in the Landes by clicking below on their descriptions with your credit card to hand.
Which services am I going to have with my premium bungalow in Ondres?
Booking this kind of premium accommodation, you will enjoy a private pool (reserved for the 80 places to stay at Airial du Seignanx) with reflecting pool, an exclusive reception and entertainment for children & adults.
You will also be able to book horse rides, yoga courses, circus training or even bike rides on the enormous cycle path that leaves the campsite (the « Velodyssée », literally « bike odyssey »).
Can I have a cottage with private pool?
Booking your premium cottage, you will have access to a pool reserved for 80 residents at Airial du Seignanx, heated with 100% renewable energy and a reflecting pool. A beach like a pool with deck chairs in sufficient number, vegetation and and the calm of the Landes forest are persuasive arguments to bring you round.
What if I can't find a premium cottage that meets my needs?
If none of the premium cottages meets your needs, you can also take a look at our catalogue in which you will find mobile homes in the Landes, a wide choice of pine forest chalets for 4 to 7 people, or even recent cottages and camping pitches in the shade.